Live digital business cards sharing with the PRIvate NETwork app
PRI-NET is the app by which you can share all your business and private contact information in a 'PRIvate NETwork'. Make your own digital business cards and share this in a fast, simple but above all a safe way. You can even share business cards to another without the other person needs this app.

For business you maintain connections through LinkedIn and private Facebook, but what if you want to combine that in one online contact manager? This you can with the PRI-NET app! All contacts handy in one tool, safe sharing contact information and you decide which information you share with one another.

Share your digital business card
You can do this at lightning speed from the app, also when you just want to use your own card. You share your business card by:

WhatsApp or Social Media
NFC (contactless)
QR-code scannen (Iphone-camera)
Mail (nice appearance)
Own weblink (email signature)
With other PRI-NET users (static or live)

When you are 'live' connected with another PRI-NET user you decide which cards you share.

You want a clean signature underneath you email, then you can present a link to your digital business card. See this example and explanation how you can upgrade your email signature.

Your new mail signature
Best regards,
Nick Americo
Financial advisor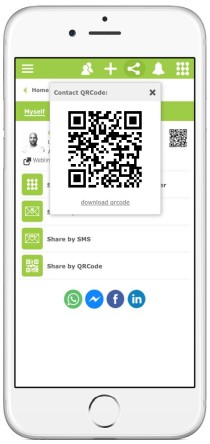 From phone to phone
Share your digital business card with your own QR-code and NFC signal. Since the update of iOS11, your iPhone camera works also as a QR-code reader. Do you have Android phones, then you can share your card simply by NFC signal (hold phone to phone). With an iPhone you need a separate app to read a NFC signal.

Give it a try with PRI-NET!


PREVIEW VIDEO
This video will show you shortly how the app works and you will see the most important parts of the app.

More explanation

Your personal information won't be used for other purposes. See our Privacy policy and Data policy.

For any question regarding to this app, mail to:
info@pri-net.com



SUPPORT PRI-NET by PAYPAL DONATION GO TO: